Welcome to Session Percussionist
Abstract
Welcome to the Session Percussionist online manual. Find out how to use all features in detail and create your own sounds and patterns.
Session Percussionist delivers a versatile collection of drum patterns, rolls, and one-shots within an intuitive engine. It includes over 2000 rhythmic patterns performed by renowned session musicians along with 58 meticulously sampled instruments.
The browser makes it simple to search, filter, and audition sounds based on genre tags, instrument types, and tempo range. The curated ensemble presets contain up to five instrument slots that can be played simultaneously or individually for unique expression.
Session Percussionist's brand-new engine will search for loops and patterns that closely fit your productions based on the rhythms you enter. You can fully customize patterns by adding and deleting notes, changing velocity and articulations, inserting flams, and more.
Even though patterns can be fully modified or created from scratch, the revolutionary playback engine will always ensure that note transitions will sound realistic. In the case of Shaker or Tambourine, for example, six different tempos have been recorded, the selection of which happens dynamically based on the current tempo and note distances.
The Mixer page enables you to refine your sound using controls for tuning, timing, stereo width, and spatialization—each channel features an XY pad for intuitive placement of the instrument in the virtual recording room.
This document shows you how to install and setup Session Percussionist and describes all features in detail, starting with the basic overview.
Thank you for choosing Session Percussionist. We hope you enjoy it!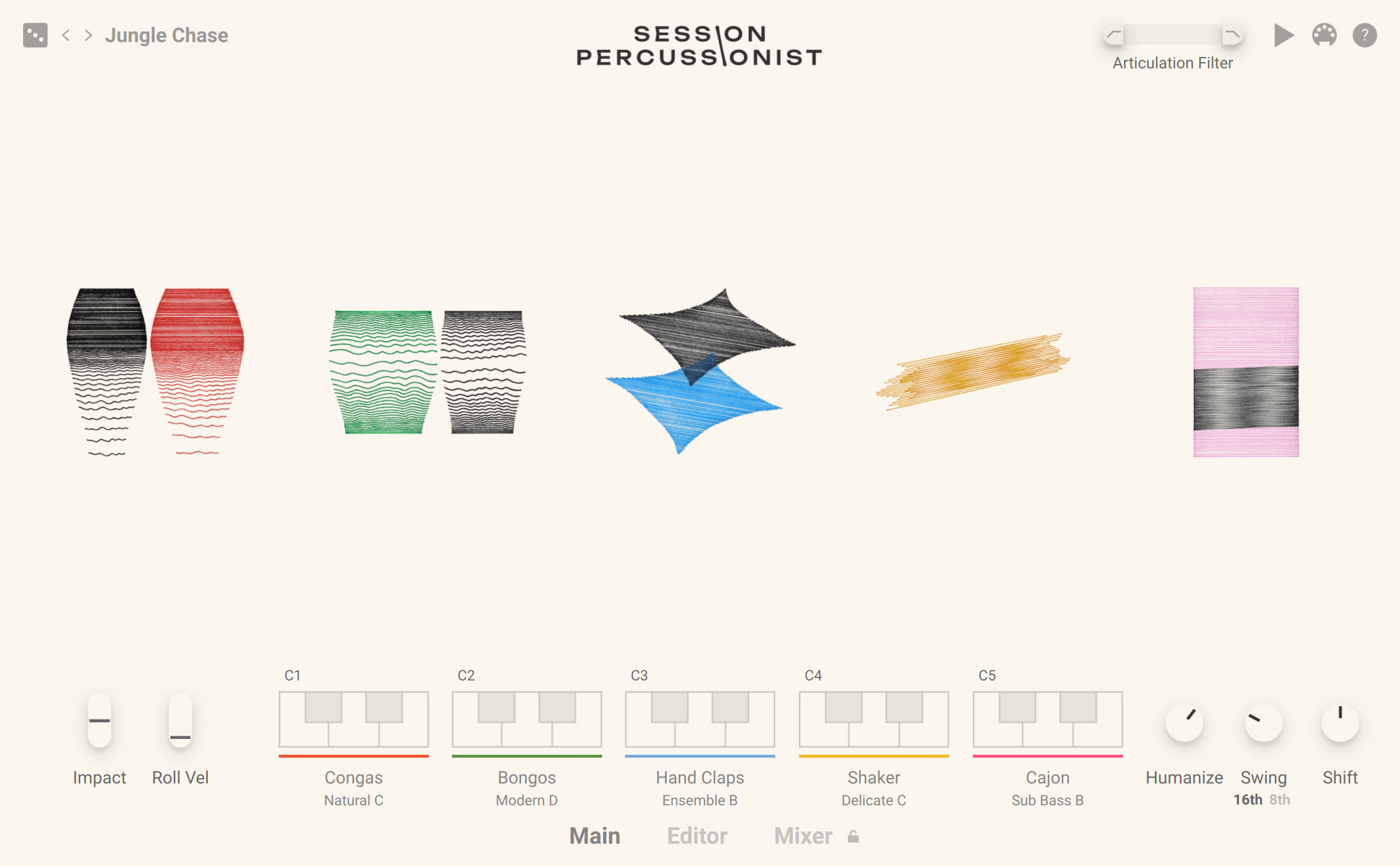 In this document the following formatting is used to highlight useful information:
| | |
| --- | --- |
| Italics | Indicates paths to locations on your hard disk or other storage devices. |
| Bold | Highlights important names, concepts, and software interface elements. |
| [Brackets] | References keys on the computer keyboard. |
| | Denotes a single step instruction. |
| | Denotes the expected result when following instructions. |
The following three icons denote special types of information:
Tip
The light bulb icon indicates a useful tip, suggestion, or interesting fact.
Notice
The information icon highlights essential information in a given context.
Caution
The warning icon alerts you of potential risks and serious issues.